74 Fascinating Graduation Sayings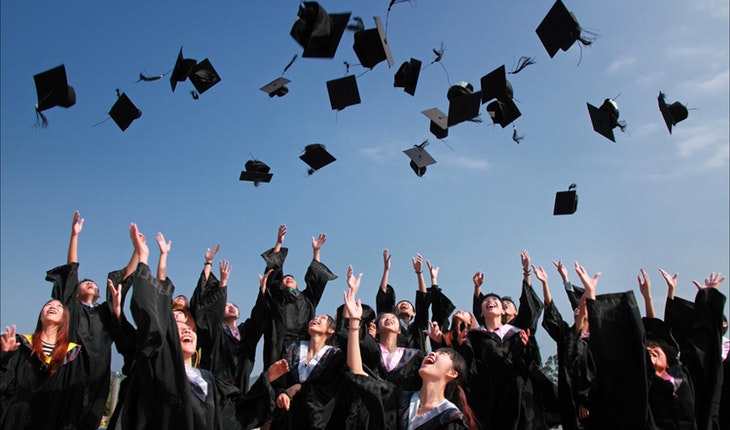 In this post, you will find best graduation health sayings and quotes.
"When you graduate from college, they tell you to follow your dreams. Does anyone say you have to wake up first?" —Bill Cosby
"We don't stop going to school when we graduate." —Carol Burnett
"The trouble with learning from experience is that you never graduate." —Doug Larson
"If your only goal is to become rich, you will never achieve it." —John D. Rockefeller
"Education is not preparation for life; education is life itself." —John Dewey
"All that stands between the graduate and the top of the ladder is the ladder." —Unknown
"Success! You've made it to graduation, and are sure to do well in the future." —Unknown
"Excellence is not a skill. It is an attitude." —Ralph Marston
"When you leave here, don't forget why you came." —Adlai Stevenson
"Start where you are. Use what you have. Do what you can." —Arthur Ashe
"All real education is the architecture of the soul." —William Bennett
"Each year at graduation, I am obliged to offer a few 'brief remarks,' which are usually not as brief as they should be." —James E. Ryan
"The fireworks begin today. Each diploma is a lighted match. Each one of you is a fuse." —Edward Koch
"Don't always worry what your next line is going to be." —Richard Costolo
"If opportunity doesn't knock, build a door." —Milton Berle
"Do not go where the path may lead; go instead where there is no path and leave a trail." —Ralph Waldo Emerson
"Growth itself contains the germ of happiness." —Pearl S. Buck
"It was only when I finished the course and left my graduation diploma on the bus that I realised I'd become an actor." —James D'arcy
"Some people drink from the fountain of knowledge, others just gargle." —Robert Anthony
"There is a good reason they call these ceremonies ' commencement exercises'. Graduation is not the end; it's the beginning." —Orrin Hatch
"Your imagination is your preview of life's coming attractions." —Albert Einstein
"If your uniform isn't dirty, you haven't been in the game." —Ben Bernanke
"Keep in mind that neither success nor failure is ever final." —Roger Babson
"Life is my college. May I graduate well, and earn some honors." —Louisa May Alcott
"If you feel that you have both feet planted on level ground, then the university has failed you." —Robert Goheen
"For good nurture and education implant good constitutions." —Plato
"Success is going from failure to failure without losing your enthusiasm." —Winston Churchill
"Education makes a people easy to lead, but difficult to drive: easy to govern, but impossible to enslave." —Henry Peter Brougham
"I am not a product of my circumstances. I am a product of my decisions." —Stephen Covey
"The things taught in schools and colleges are not an education, but the means of education." —Ralph Waldo Emerson
"Education is what survives when what has been learned has been forgotten." —B.F. Skinner
"You cannot get to the top by sitting on your bottom." —Proverb
"I accidentally forgot to graduate from college." —Anne Lamott
"The future lies before you like a field of driven snow, be careful how you tread it, for every step will show." —Unknown
"An investment in knowledge always pays the best interest." —Benjamin Franklin
"Success is the end product." —Lailah Gifty Akita
"Go for it now. The future is promised to no one." —Wayne Dyer
"Wherever you go, go with all your heart." —Confucius
"Wherever you go, no matter what the weather, always bring your own sunshine." —Anthony J. D'Angelo
"This man used to go to school with his dog. Then they were separated. His dog graduated." —Henny Youngman
"Set your goals high enough to inspire you and low enough to encourage you." —Unknown
"Education is our passport to the future, for tomorrow belongs to the people who prepare for it today." —Malcolm X
"The world is waiting for us to graduate from ourselves." —Shannon L. Alder
"The roots of education are bitter, but the fruit is sweet." —Aristotle
"You will find the key to success under the alarm clock." —Benjamin Franklin
"School's out, Memories past, Don't ever doubt, Our friendship will last." —Unknown
"Remember, half the doctors in this country graduated in the bottom half of their class." —Al McGuire
"Be bold, be courageous, be your best." —Gabrielle Giffords
"Your time is limited, so don't waste it living someone else's life." —Steve Jobs
"A university is a city of ideas, and we're grateful you became citizens of our city." —Mary Karr
"Your education is a dress rehearsal for a life that is yours to lead." —Nora Ephron
"Just don't give up trying to do what you really want to do." —Ella Fitzgerald
"Education is what survives when what has been learned has been forgotten." —B.F. Skinner
"I'm not impressed by someone's degree. I'm impressed by them making movies." —Richard King
"There is no script. Live your life. Soak it all in." —Unknown
"What we learn with pleasure we never forget." —Alfred Mercier
"There are no shortcuts to any place worth going." —Beverly Sills
"Try not to become a man of success, but rather try to become a man of value." —Albert Einstein
"Dream no small dreams for they have no power to move the hearts of men." —Johann Wolfgang
"The college graduate is presented with a sheepskin to cover his intellectual nakedness." —Robert M. Hutchins
"One half who graduate from college never read another book?" —G. M. Trevelyan
"Start where you are. Use what you have. Do what you can." —Arthur Ashe
"Get busy living or get busy dying." —Stephen King
"The future depends on what you do today." —Gandhi
"I learned law so well, the day I graduated I sued the college, won the case, and got my tuition back." —Fred Allen
"The horizon leans forward, offering you space to place new steps of change." —Maya Angelou
"Your schooling may be over, but remember that your education still continues." —Unknown
"Graduation is a time of completion, of finishing, of an ending; however, it is also a time of celebration of achievement and a beginning for the new graduate." —Catherine Pulsifer
"To accomplish great things, we must not only act, but also dream, not only plan, but also believe." —Anatole France
"The road to success is always under construction." —Lily Tomlin
"Education is the most powerful weapon which you can use to change the world." —Nelson Mandela
"Look at education as a continuous life long journey." —Catherine Pulsifer
"People who are crazy enough to think they can change the world are the ones who do." —Rob Siltanen
"Success is relative. It is what we make of the mess we have made of things." —T.S. Eliot
Hope you find these graduation sayings and quotes useful. If we have missed any famous sayings and quotes on graduation, you can tell us via contact form below.