100 Catchy Team Work Sayings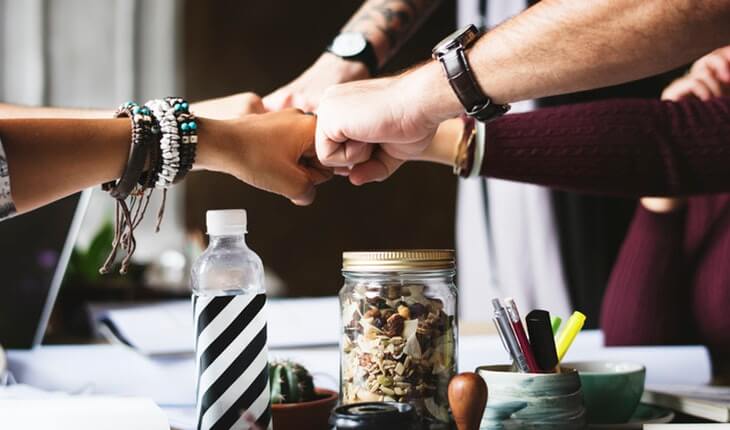 We have great collection of Team Work sayings and quotes.Hope you would love these sayings and quotes.
"Alone we can do so little; together we can do so much." —Helen Keller
"I invite everyone to choose forgiveness rather than division, teamwork over personal ambition." — Jean Francois Cope
'The best teamwork comes from men who are working independently toward one goal in unison." —James Cash Penney
"Teamwork is better than isolation, especially for a columnist." —Allan Sloan
"Teamwork is working together, even when apart." —Unknown
"It's not about the pieces but how they work together." —Unknown
"Teams do not seek consensus; they seek the best answer." —Jon R. Katzenbach
"If everyone is moving forward together, then success takes care of itself." —Henry Ford
"To play a good game, you need a few players." —R.J. Torbert
"People have been known to achieve more as a result of working with others than against them." —Allan Fromme
"Talent wins games, but teamwork and intelligence wins championships." —Michael Jordan
"Unity is strength.  When there is teamwork and collaboration, wonderful things can be achieved." —Mattie Stepanek
"Teamwork begins by building trust. And the only way to do that is to overcome our need for invulnerability." —Patrick Lencioni
"To succeed in hockey, you need teamwork." —Henry Samueli
"Teamwork doesn't tolerate the inconvenience of distance." —Unknown
"A single twig breaks, but the bundle of twigs is strong." —Tecumesh
"Trust your team. Let others do their work so that you may concentrate wholly on doing your own." —Gene King
"Individual commitment to a group effort , that is what makes a team work." —Vincent Lombardi
"Teamwork builds trust and the trust build growth." —Nazim Ambalath
"Everyone is needed, but no one is necessary." —Bruce Coslet
"With teamwork we are able to multiply our output and minimize individual input." —Ogwo David Emenike
"In teamwork, silence isn't golden, it's deadly." —Mark Sanborn
"The whole is other than the sum of the parts." —Kurt Koffka
"Your attitude, not your aptitude, will determine your altitude." —Zig Ziglar
"The ratio of We's to I's is the best indicator of the development of a team." —Lewis B. Ergen
"Great things are done by a series of small things that are brought together." —Vincent Van Gogh
"Great Things in Business are never done by one person. They're done by a team of people." —Steve jobs
"The nice thing about teamwork is that you always have others on your side." —Margaret Carty
"All are one unless and until they are asked to work together." —Anuj Somany
"A demanding performance challenge tends to create a team." —John Katzenbach
"Better to lose with the right team than to win with the wrong team." —Ogwo David Emenike
"The speed of the boss is the speed of the team." —Lee Iacocca
"Individually, we are one drop. Together, we are an ocean." —Ryunosuke Satoro
"No member of a crew is praised for the rugged individuality of his rowing." —Ralph Waldo Emerson
"Wearing the same shirts doesn't make you a team." —Buchholz
"We are team.  One person struggles, we all struggle." —Coach Carter
"Teamwork means never having to take all the blame yourself." —Stephen Hawking
"Many hands make light work." —John Heywood
"You are either supporting the vision or supporting division." —Saji Ijiyemi
"if you can't pass, you can't play." —Dean Smith
"Team work is essential to meet high expectation at work place." —Anikor Daniel
"Teamwork makes the dream work." —Bang Gae
"He, who wished to secure the good of others, has already secured his own." —Confucius
There is little success where there is little laughter." —Andrew Carnegie
A team is more than a collection of people. It is a process of give and take." —Barbara Glacel
"Work together not against." —Unknown
" If you want to go fast, Go alone, If you want to go far. Go together." —African proverb
"A chain is only as strong as its weakest link." —Unknown
"Teamwork is the best ever investment." —Israelmore Ayivor
"Collaborate with the people you can learn from." —Unknown
"The secret to teamwork is an outward mindset." —Steve Young
"A successful team is a group of many hands and one mind." —Bill Bethel
"Good teams incorporate teamwork into their culture, creating the building blocks for success." —Ted Sundquist
"Teamwork is the secret that makes common people achieve uncommon results." —Ifeanyi Enoch Onuoha
"Men have never been individually self-sufficient." —Reinhold Niebuhr
"In union there is strength." —Aesop
"Teamwork is the fuel. That allows common people to attain Uncommon results." —Andrew Camegie
"A single leaf working alone provides no shade." —Chuck Page
"A team is a reflection of its leader." —Sunday Ahelaja
"No matter what accomplishments you make, somebody helped you." —Althea Gibson
"You can't do it better without teamwork." —Ogwo David Emenike
"No individual can win a game by himself." —Pele
"None of us is as smart as all of us." —Ken Blanchard
"Men have never been individually self-sufficient." —Reinhold Niebuhr
"The nice thing about teamwork is that you always have others on your side." —Margaret Carty
"Together we can achieve more." —Unknown
"I've never scored a goal in my life without getting a pass from someone else." —Abby wambach
"Getting  good players is easy. Getting them to play together is the hard part." —Casey Stengel
"On one foot you limp; on two feet you sprint." —Phil Mitchell
"Honor bespeaks worth Confidence begets trust." —James Cash Penney
"Leadership is not about your ambition. It is about bringing out the ambitions of your team." —Cheryl A. Bachelder
"Teamwork is the ability to work together toward a common vision." —Andrew Carnegie
"Coming together is a beginning. Keeping together is progress. Working together is success." —Henry Ford
"The achievements of an organization are the results of the combined effort of each individual." —Vince Lombardi
"Win together, lose together, play together, stay together." —Debra Mancuso
"A manager says "go," a leader says "let's go." " —Unkown
"We Rise by Lifting Others." —Robert Ingersoll
"Great teams do not hold back with one another." —Patrick Lencioni
"If you can dream it up, you can team it up." —Richie Norton
"Light is the task where many share the toil." —Homer
"Never quit or give up on your teammates because they will give up and quit on you." —Alcurtis Turner
"Bad attitudes will ruin your team." —Terry Bradshaw
"Unity is strength. When there is teamwork and collaboration, wonderful things can be achieved." —Mattie Stepanek
"It is literally true that you can succeed best and quickest by helping others to succeed." —Napoleon Hill
"No man is an island, entire of itself; every man is a piece of the continent." —John Donne
"Teamwork: simply stated, it is less me and more we." —Unknown
"Team Work lead you to success for sure." —Unknown
"If anything goes bad, I did it. If anything goes semi-good, we did it." —Paul Bryant
"True teams are made when you put aside individual wants for collective good." —Unknown
"A single arrow is easily broken, but not ten in a bundle." —Japanese proverb
"Great team can accomplish great works." —Lailah Gifty Akita
"Teams share the burden and divide the grief." —Doug Smith
"Teamwork is a strategic decision." —Patrick Lencioni
"There is no "I" in "Team Work"." —Unknown
"The path to greatness is along with others." —Baltasar Gracián y Morales
"The system will fail if the team is made up of people who need constant prodding to get the work done." —Doug Loewe
"We are only As Strong as we are united as Weak As we are Divided." —J.K Rowling
"There is no need to tell someone how to do his job if you have properly trained your team." —Dick Winters
"So powerful is the light of unity that it can illuminate the whole earth." —Bahaullah
"A team is a group of people that supports each other." —Unknown
Hope you find these team work  sayings and quotes useful. If we have missed any famous sayings and quotes on team work, you can tell us via contact form below.